GBL: Innovation and Exceptional Service Personified
Posted under: Business Owners, IPP, RCA, HAWP, FMV
---
As GBL celebrates its 26th anniversary, we reflect on our history and contributions to planning within Canada. In 1995, Gordon B. Lang, FCIA, FCA looked to reimage how Actuarial services could be marketed and administered to provide for a better client experience. There were two facets to this: Having a dedicated consulting arm to educate and create markets for Individual Pension Plans (IPPs) and Retirement Compensation Arrangements (RCAs), and identifying areas of need where GBL can be the market leader. Gordon knew that diversifying GBL's offering was crucial, as changes to taxation could come with any budget, and the ensuing rules that may be in place today, might be different tomorrow.
How GBL Became The Leader In Its Industry
With a focus on exceptional service for both the client and advisor, GBL embarked on a mission to educate and inform advisors, clients, and their tax professionals on how IPPs and RCAs can be planning tools that are central to a sound financial plan. The focus was to provide these services in the context of corporate and personal tax planning, and estate planning. Rather than competing with Advisors, GBL has focused on forging relationships with Advisors and their groups to provide an integrated team approach.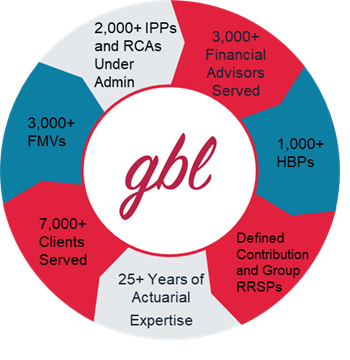 GBL's Service Offering
GBL is known as the industry expert in many different areas, while our focus is on four core areas: retirement planning, health and group benefits, insurance strategies, and actuarial consulting.
Retirement Planning
GBL is the industry leader in implementation, administration, and consulting for IPPs and RCAs. Our approach to IPPs combines financial planning concepts and exceptional client service.
GBL is also the industry leader in RCAs, which can be utilized for executive retirement planning, employee severance, NHL Players and other professional athletes, and tax planning for business owners.
GBL also provides calculations for commuted values for members of group pension plans, and analysis as to whether it makes sense to commute a pension or take it directly. Our analysis is objective and can clarify retirement planning considerations.
Health And Group Benefits
We offer a self-administered health and dental plan, the Health Benefit Plan (HBP), for smaller companies where traditional group benefits may be cost prohibitive, or to offer an ancillary benefit in addition to existing group benefits.
For larger employee groups there is also the Health Spending Account (HSA), packaged with a convenient app for employees to remit expenses.
GBL is also able to review your existing group benefits to ensure they are not only competitive for employee retention, but also in line with the company's needs. We can also assist in the development of retirement benefits such as Defined Contribution (DC) or Group RRSP plans for you and your employees.
Insurance Solutions
With our depth of knowledge of insurance, GBL has become the industry leader in Fair Market Valuations on life and critical illness insurance. Whether a policy needs to be valued for corporate restructuring, charitable gifting, or for valuing a company, our Actuarial team's depth of knowledge is second to none.
We also assist with split dollar agreements for both life and critical illness policies, and exempt testing on foreign life insurance policies to ensure they adhere to CRAs rules for exempt status or that Canadian policies qualify as exempt for other jurisdictions.
Actuarial Consulting
Our Actuarial team is available in special cases where an Actuary is required for expert testimony and advice regarding present value calculations or valuations in areas of uncertainty.
Whatever your Actuarial need may be, GBL has the solution or has the contacts you need to fulfill the many facets of your business and personal retirement planning. Let us help build your future.
Founded in 1995, GBL is a leading provider of retirement and health solutions for business owners across Canada. For more information on our services and strategies contact: [email protected] or 403.249.1820 and follow us to learn how we can help Build Your Future.
---